Things to Do
Real treasures of Mangalajodi are the birds and the conservation efforts of community which are interwoven together where each fiber is natural. We are beyond the obvious cosy resorts and concrete structures. We ensure a complete unique experience while staying in Bamboo Cottages and tents in Mangalajodi village. It's time to dig in and experience Mangalajodi Marshes for one or the other reason.
Birding while Boating:
You can enjoy watching birds in any Documentary but will miss the Joy of whiskered terns flying across your boat or Brahminy Ducks taking first flight of the morning imitating the sound of a little Chopper. It gives you the experience of birding from closest distance possible which bears witness to protection offered by locals accompanying you on the boat as Eco-guides.
Patrolling:
Be it any time, season or occasion Mangalajodi saviors will be patrolling in the Mangalajodi area to protect the birds. Regular patrolling and involvement had made them acquire Knowledge of Birds, their migratory patterns and breeding cycles. You can accompany them and be a part of patrolling team to know Conservation by hearing the story of metamorphosis from "Poachers to Protectors".
Photography:
Professional or amateur, birder or nature lover, cultural or conservational, Mangalajodi gives a glimpse into all these aspects.
Food on Boat:
Relish Chilika Food prepared and offered on boat. You will love the food and the experience is like never before.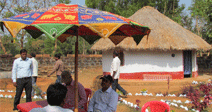 Featured Place
Mangalajodi Ecotourism is community owned and managed wildlife conservation venture. Mangalajodi, a village on the banks of the Chilika Lake, hosts more than 150000 birds which jostle in its marshy ..
When to visit
Though resident birds can be sighted throughout the year, winters (October to March) are the ideal time to see migratory birds.
How to reach
Mangalajodi is approx. 75 Kms from Bhubaneswar en route to Chennai on NH-5. Bhubaneswar is well connected by air and train. Nearest Bus stand is Chandpur Tangi. Nearest Railway stations are Kalupada Ghat and Mukateswar.
View Guide Map